Athelstaneford Flown Saltires
Buy a Used Saltire that has Flown at Athelstaneford – Birthplace of Scotland's Flag
There are two flagpoles at the Athelstaneford site on which Saltires are flown permanently – one at the Saltire Memorial close to Main Street on which a 5ft x 4ft Saltire is flown and floodlit at night, and one at the viewpoint next to the Heritage Centre on which a "skinny" 8ft long vimpel Saltire is flown. When these flags begin to show signs of wear and tear, they are replaced. Depending on the weather, flags can last for about 6 months.
In recent years, public interest has grown in acquiring Saltires that have been flown at the historic Athelstaneford site, and the Trust is happy to meet this demand. There is no set price, but interested parties are asked to make a donation. These have been in the range £25 – £50 per flag. There is a waiting list.
If you are interested, please contact the Trust by email info@scottishflagtrust.com
---
Mouse Mat
The Trust has produced a stylish mouse mat which measures 23.5cm long by 20cm wide. This is an excellent accessory for your computer, and it also makes a fine gift.
The mouse mat costs only £2.50 including postage.
---
Athelstaneford Card
The Trust has recently had produced a small range of high quality greeting cards, featuring a stunning photograph of a Saltire flying at the Athelstaneford site. The cards measure approximately 17cm by 13cm, and are blank inside for your own message.
The cards are priced at £2.25 and postage is free.
---
Fridge Magnet
This measures 4.5 cm by 4.5cm, and depicts the battle scene from the original copper panel set within the Saltire Memorial in the Churchyard.
The fridge magnets are priced at £1.25 each, which includes postage.
---
Saltire Memorial Postcards
These are produced in a glossy finish and measure 15cm by 10cm. There are two different views of the Saltire flying high above the Memorial.
The postcards are priced at £4.50 for a pack of 12 (6 of each view) with postage free.
---
Friends membership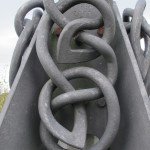 "Friends" give their support for the work of the Trust by way of an annual subscription of £25 (minimum). In return, "Friends" have their names added to the richly decorated Book of the Saltire which is on display in the Centre. They also receive a regular Trust newsletter.