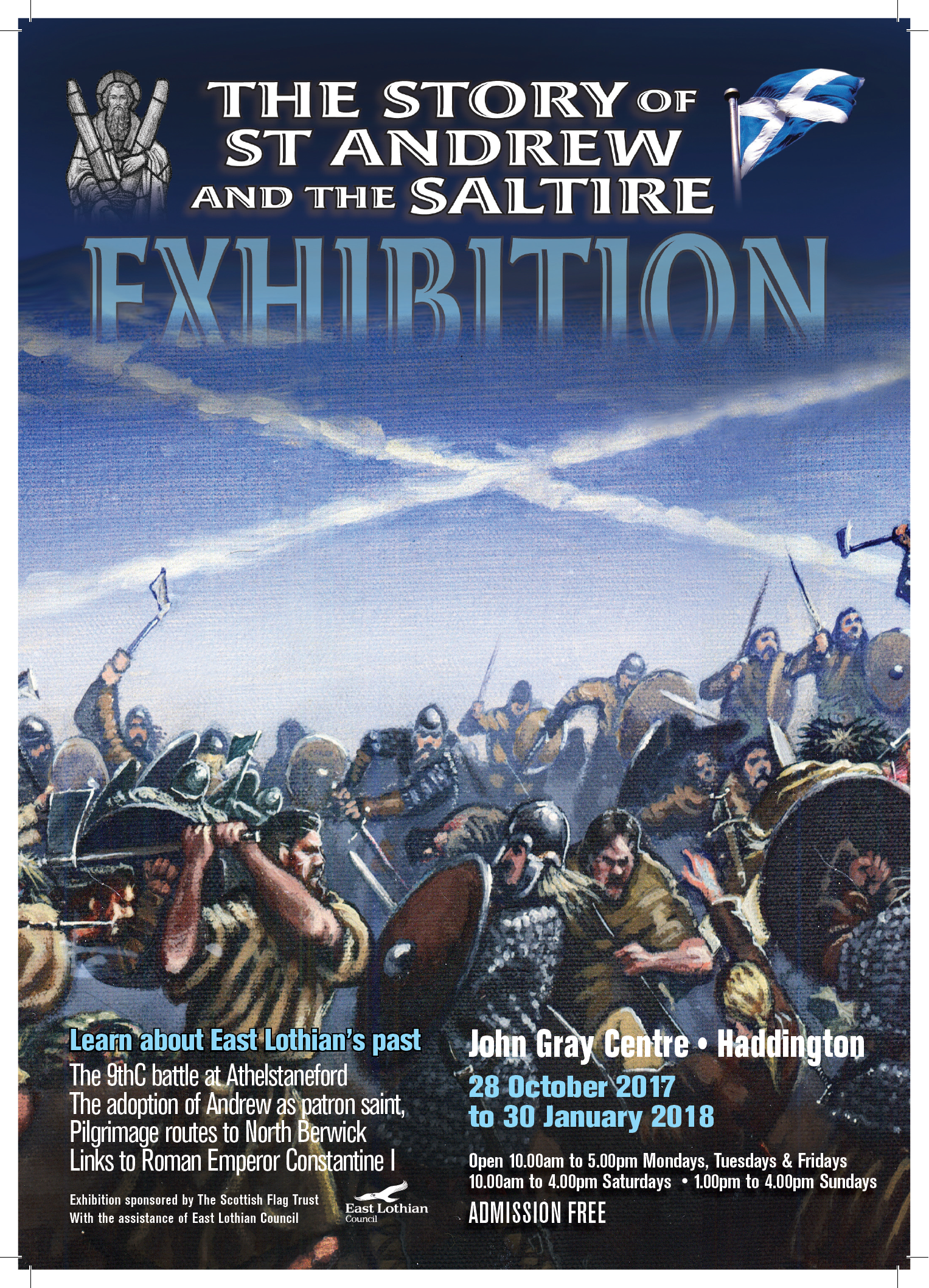 A public exhibition, The Story of St Andrew and the Saltire, was officially opened by Cabinet Secretary Fergus Ewing MSP on Tuesday 31 October.
The exhibition, which has been promoted by the Trust in association with East Lothian Council Museums, is being held in the John Gray Centre, Haddington, and admission is free. Opening hours are 10.00am to 5.00pm on Mondays, Tuesdays and Fridays; 10.00am to 4.00pm Saturdays; and 1.00pm to 4.00pm Sundays, and the exhibition runs until 30 January 2018.
East Lothian proudly claims to be the birthplace of Scotland's flag, and the exhibition explores the historical evidence to back this up. The exhibition is wide-ranging, covering events of relevance over two millennia from Roman times to the present day, including of course the Battle of Athelstaneford in 832AD. For everyone wanting to learn more about this part of East Lothian's heritage, there is much of interest.
Highlights of the exhibition are the various fascinating artefacts on display, on loan courtesy of National Museums Scotland and other collections. These include:-
– a coin of Emperor Constantine, excavated in 1920 on Traprain Law
– a cast of the Pictish Benvie Stone, depicting warriors of the period
– a ceremonial copy of the Blue Blanket banner believed to have been carried at Flodden, and featuring one of the earliest white saltires on a blue field.
Trust Chairman, David Williamson, explained "2017 is a milestone year for the Trust in that it marks the 20th anniversary of the opening, in 1997, of the Flag Heritage Centre in Athelstaneford. The exhibition is felt to be an appropriate way to mark this, by bringing the story to as wide an audience as possible".